SEMrush is a great tool and is famous for improving the way we conduct digital business, especially where keyword research, best practices for SEO, link building, website health, and competitor espionage is concerned. SEMrush is a tool that covers that and more. That's why it's time for a 2020 SEMrush review.
In fact, there's so much that SEMrush covers that it would be impossible to finish reading about all of them in just one day.
2020 SEMrush Review: Featured Tools
So for the sake of being concise and compact, we'll only tackle some of the key features and tools that are used often. And below, you'll see the list of the most common SEMrush tools that are used by some of the best digital marketing companies to help in their marketing efforts.
For Keyword Research
Digital marketers troop to SEMrush for different reasons. Lots of them do so in the hopes of better identifying target keywords, or find ones that they'd like to rank for and other competitors are ranking for.
SEMrush has various tools that help users do research on blog article topics and keywords. You've got the new Keyword Magic too, the Topic Research tool, and even the Organic Research tool. You're bound to find lots of keywords that you can structure content around for years to come.
The Keyword Magic Tool
This tool has over 2 million keywords in its database, so you're sure to find plenty for the business niche you operate in. There's also the option to create up to 50 target keyword lists, if you've got multiple clients or if you're a business with many facets.
All you need to do is type in any keyword and you can get instant results.
Helpful data that you can get from a quick keyword search include:
A trend graph
Long-tail keywords
Average monthly volume of searches
Keyword difficulties
Competition when entering AdWords auctions
Cost-per-clicks if you want to advertise for a particular keyword
Number of SERP features found for a keyword
To the left, you can also see a table that breaks down commonly used keywords associated with your own.
You also get the option to check the "questions" box, which can then give you all the what, who, why, where, when, and how questions people type in for that particular keyword.
All of those results can seem overwhelming and difficult to sort through. So you simply check the box that appears next to the keywords that you find valuable, and you can then send them over to the Keyword Analyzer tool for future use.
Keyword Analyzer Tool
To further explore up to 1,000 selected keywords, head on over to the Keyword Analyzer Tool. And from here you can:
Export keywords to spreadsheets.
Segment keywords for further analysis.
Send keywords to another tool like the position tracking tool.
The Position Tracking Tool
After figuring out the keywords that you'd really like to track, you'll want to add them to the position tracking tool. Here, SEMrush gives you weekly updates detailing how you and your competitors are ranking for those keywords.
One other cool feature is that it shows you the various SERP features that the keyword is triggering and who has those SERP features.
And then you can review the specific pages that you're ranking for for those keywords just to see if they need any improvement. You can also stalk your competitors' landing pages to see what they're doing so you can get new ideas for your own pages.
One great feature of the Position Tracking tool for local businesses is that you can geo-target keywords to see how they fare at local search level rather than rely on general rankings.
Exploring the Domain Overview Tool
SEMrush doesn't just stop at letting you research new keywords. You can also gather tons of information about your own website, and that includes keywords that you already rank for. Most of the time, you might not even find keywords that bring traffic to your site, or you can't see the volume of traffic that those keywords are bringing to you.
In order to gather information about your own domain, you can just enter your root domain into the Domain Overview tool.
SEMrush's domain overview of a site reflects organic and paid search traffic from keywords that SEMrush has in its database of 120 million keywords. That means the numbers you see in the monthly traffic section does not accurately reflect your site's monthly traffic.
SEMrush uses an algorithm to make estimates on this based on the position of keywords, number of keywords, and average CTR of those keywords.
Keep in mind that your website traffic might be much higher when you calculate in direct traffic, email campaign traffic, and social media traffic. Some really cool metrics that SEMrush has to offer in their domain search when you type in your web address include:
Traffic and keyword amount overview.
Amount of traffic brought in through paid search.
Number of backlinks from referring domains.
Graphs that showcase organic traffic and paid search traffic over time (choose from 1 month to 2 years, or for all time).
Top 5 organic keywords that bring traffic to your site.
Graphs that show organic position distribution.
Top organic competitors (based on overlapping and traffic keywords).
Chart that shows top paid keywords that bring traffic to your site.
Graph about competitive position map based on number of keywords and organic search traffic.
A graph that shows paid position distribution of the keyword ads that are targeted.
Chart that shows main paid competitors. (Top 5 is displayed).
PPC ads sampling.
Backlinks that refer to your site, what they are, the anchor text, and the URL that those backlinks point to.
Top anchor texts used in backlinks, bringing referring traffic to your site.
Most popular indexed pages back-linked by other domains.
Organic Research Tool
This tool can help you learn a lot about the keywords that you or your competitors are currently ranking for. Over at the Overview tab, you can find a nice graph that shows your keyword growth over time. You can change this graph to show you all top 10 page results, top 5 page results, top 2 page results, first page results, and top 3 results.
By default, SEMrush lists the keywords by order of who brings the highest volume of monthly traffic. Of course, you can use other data points to sort the keywords. These include:
The difference in position losses or gains compared to the last crawl.
Keywords' positions for organic search results with arrows that show the previous position.
Estimated number of monthly searches for that keyword.
URL page that the keyword is associated with.
CPC if you want to advertise for the keyword & CPC average.
Competitive density of a keyword.
Total number of indexed URLs that contain the keyword.
Trends by popularity of searches.
Keywords' data last update.
Using the Keyword Gap Tool
Keyword Gap tool is really cool and you can find it within Domain Overview. This tool is really useful for seeing how your website stacks up against others in your space that are targeting some of the same keywords as you do.
You can enter up to 5 websites at a time, but experts always recommend starting with a head-to-head analysis. See how your website holds up against your top competitor. The Keyword Gap tool (by default) gives you a list of keywords that both you and your competitor has in common. You get to see what you're ranking for the keyword versus theirs.
Of course, you'll also see information like volume, difficulty to rank for, AdWords competition, and CPC.
Website Review Tools
But what if you want to find out how well your website and web copy is performing, SEMrush also has plenty of other tools for the kind of metrics that you're looking for.
A Site Audit Tool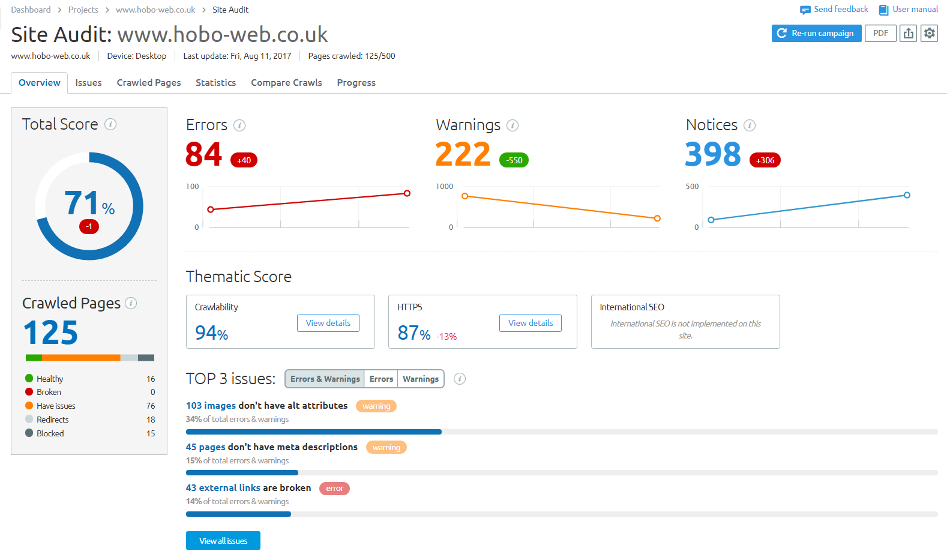 In addition to being capable of competent keyword research thanks to SEMrush, you can also run site audits in SEMrush to see if there are any problems occuring within your website that may hinder its performance.
The Backlinks Analytics Tool
One of the most important signals to search engines is still backlinks. This helps them determine the quality of the pages. Yes, the web copy itself is still the most important metric, but search engines like to see how other people and other websites view the quality of the content your site offers.
Consider it closely. Would you link to a page that holds zero value for your own audience to follow? Why would you send them somewhere that wouldn't help them further? Instead, you'd opt for linking them to high-quality content that would be valuable for them.
In the Backlink Analytics tool, you can review the total backlinks of your or your competitors' websites, which pages are being linked to, where the links come from, and how your total backlinks grow over time. You can also check where your competitors are getting their links from, and you can use that as an opportunity for outreach.
Using the Backlink Audit Tool
Now that you know how many backlinks that you've got, and which domains are linking to your pages, do you think you can trust those links? You need to make sure that they're from reputable sources, and that you don't have a bunch of links from toxic sources that point to your website. And even if you didn't create the incoming link yourself, toxic links makes Google think you don't adhere to their guidelines and rules.
Bad links hurt your reputation, so you need to review those backlinks closely and get rid of highly toxic ones.
SEMrush Rates & Prices
SEMrush has different plans to consider, depending on the size and the scope of your SEO keyword strategy.
What's the Rating for this 2020 SEMrush Review?
SEMrush is an exemplary tool that gives you an overabundance of information for any business or any person that wants to optimize their website. With it, you can find the most profitable keywords to target, and even uncover loads of information about your competitors.
Based on the amount of information and metrics available for view, SEMrush is easily one of the best SEO keyword tools available on the market.
Although, we do have this to say:
SEMrush might not be great for the casual user. It's something that's going to take a bit of time before you're totally comfortable with it, and before you know your way around it to find useful data that you need and can compile to improve your site and your keyword strategy.
Fortunately, SEMrush does have tons of resources (whitepapers, FAQ pages, video tutorials, and regular webinars) for users of every skill level. Their support team is also great at providing detailed and helpful answers in a very timely manner.
That's why Consumer Reviews gives SEMrush an easy:
We already use it for ourselves, and definitely recommend it to any clients.
Call me Sandy, a writer, and blogger of LifeStyleConvo & UrbanHouses, who worked as a full-time content creator. A writer by day and reader by night.