SEO
On-Page SEO
2020 UberSuggest Review: Is This Going to be Your New SEO Tool?
Everyone wants to do keyword research right. That's why today we're doing a 2020 UberSuggest review to determine if this tool can meet one of your prime SEO needs.
Keyword research is difficult, and it can also get pricey. Why? Because even if basic free keyword research tools exist, they don't offer much in terms of solid data and tangible keyword research reports. Everyone wants a valuable and fully-fleshed SEO tool, so the general advice is to be ready to spend some money. Unless, you're using Neil Patel's generous UberSuggest.
So let's put this SEO tool to the test. Keep reading our 2020 UberSuggest review to see if this is the right tool you should use.
The 2020 UberSuggest Review: In a Nutshell
Neil Patel has always been great at designing blogs and his own website, and he certainly lives up to his reputation. At a first glance, you can see that UberSuggest is his tool. It's very on brand, with a great layout, and more importantly, it's really easy to navigate.
So that's definitely a plus for beginners, because a cluttered dashboard with too many big words and jargon is enough to confuse anyone starting out with their SEO. However, UberSuggest does become a little bit complicated once you get started. There will be lots of information present, and then additional views to wrap your head around.
The good side is that the learning curve isn't as steep as it looks. So, you can rest assured that you'll be able to use UberSuggest in the nick of time. So, it's not the basic tool to get started with, but it's definitely one of the easiest as it combines advanced SEO and basic SEO.
Looking for Keywords to Rank For
When we do traditional keyword research, it usually involves planting a seed word and then receiving keyword suggestions, so you can find a term that's low-competition. After planting that seed keyword, you can then see lots of suggestions. With it come SEO difficulty metrics and search volume estimates.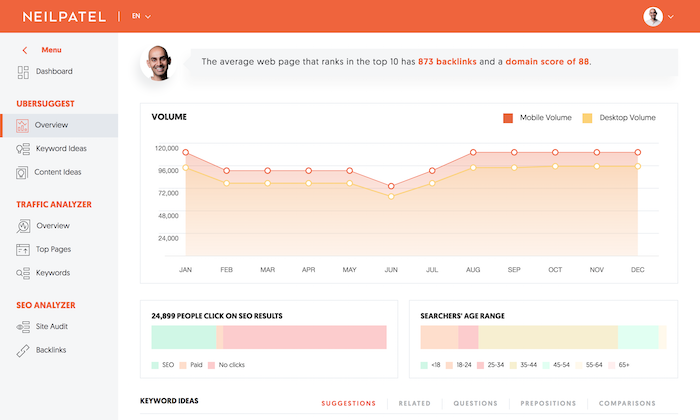 UberSuggest gives you a ton that you can work with. Perhaps experienced marketers, bloggers, or bigger sites will need a larger pool of data to find content ideas that they need. But if you're a medium-sized website or a solo entrepreneur, the UberSuggest tool works really great.
It also features some other things you can do to make your keyword research more solid when you're using this tool:
There's a tab there labeled, 'Related Keywords,' and this will pull up specific uses of your seed keyword.
Data samples in this section are thinner depending on specific cases, but the good part is that you can find keywords with fewer competitors.
'The Questions' tab pulls up keywords that people use to find answers.
For the record, UberSuggest does a good job of finding questions, and it's right on par with Answer the Public, save for the detailed breakdowns usually found in the latter. Neil Patel must have done some superb algorithm optimization for questions, because they do have one advantage over Answer The Public. UberSuggest can find questions with little competition.
There's also 'the Prepositions' table, which automatically adds modifiers to your keyword research. Sounds fancy, doesn't it? But in all reality, it's less shiny.
Out of 10 cases, you can get at 9 questions that you can probably answer all by yourself. Of course, we're not chalking it up immediately to being a bad feature. But it could use a little tweak so it can accommodate more complex questions.
We also have 'the Comparisons' tab, and it's great for online reviewers. You can see what type of roundup posts and versus articles that you can create.
At this point, you might be wondering where UberSuggest pulls their data from. They actually use Google's Keyword Planner API to get their data, and then they add their own algorithms and modifiers in the mix. Of course, it's a standard market practice, so you can trust their numbers. However, make sure you manually review a SERP before starting on your content marketing efforts.
On SERP Analysis and SEO Difficulty
One of the most important parts of keyword research and choosing your keywords to try and rank for is to do some competitor research. Investigating your competition is an essential, and an SEO tool can help you with that. Just like most tools, UberSuggest has features that will let you do competition analysis.
But does it work?
You can find the SEO difficulty for a keyword term whenever the tool gives you keyword ideas.
It's actually a metric developed by Mr. Neil Patel himself, and the metric shows you how difficult it is to rank for a particular keyword. And since most SEO tools already feature a difficulty score, they're only helpful if you use it as a reference for the data that you got from UberSuggest. This tool's difficulty score is accurate for the most part.
There's also the SERP Analyzer, and it's even more helpful.
You get overviews in a bubble, and you can also see your competition at a quick glance.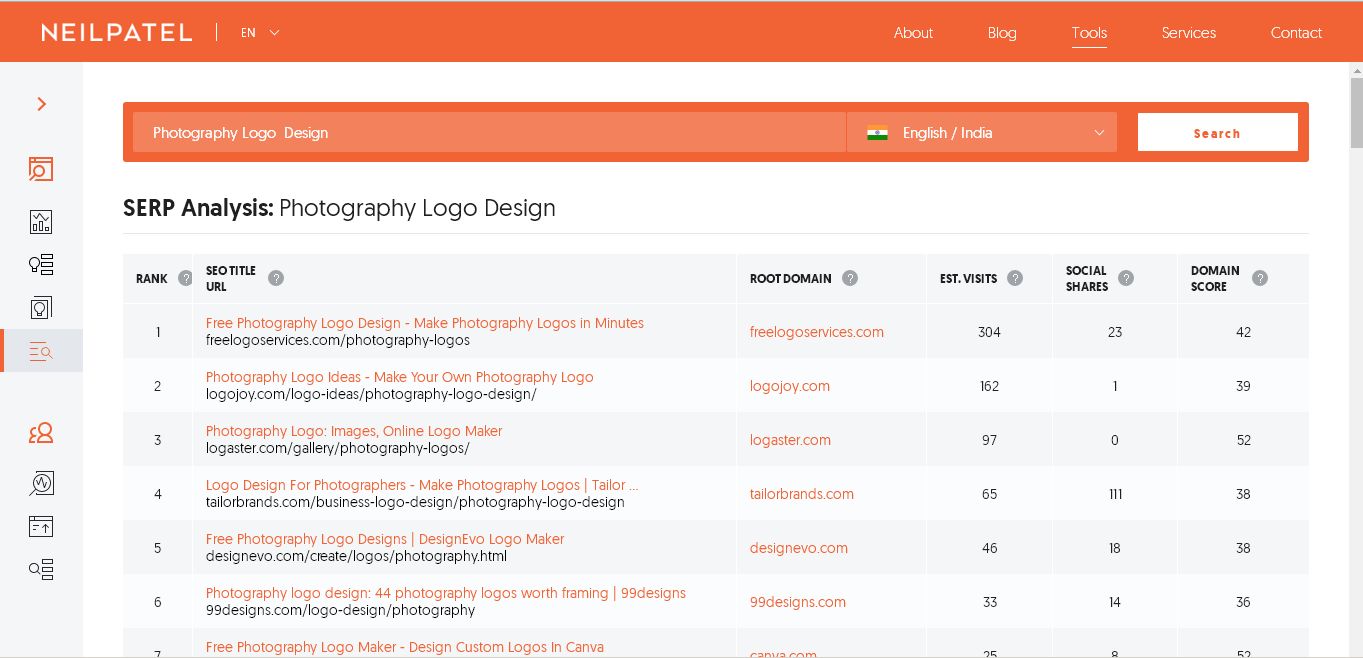 Metrics like this are very important, and often, the best SEO tools on the market feature some type of SERP analysis. But it's not perfect. A link profile for each website would have been nice. It's also great if they had a feature or a tool to modify the columns found in the dashboard.
Basically, if you need to do keyword research for competitive purposes, you can get more out of paid features or free ones from tools like Ahrefs or KWFinder. However, UberSuggest does give you other features, so you can analyze your competition.
Competitor Analysis
When you type a domain into the Traffic Analyzer, it will give you accurate numbers on the traffic they're getting, and the keywords they're currently ranking for.
If you want to see more SEO insights, you need only scroll down and you can see best-performing pages there, the social channels where they get traffic from, and the countries that they're targeting. UberSuggest doesn't analyze a site's general link profile, but you can dig even deeper and acquire data on their backlinks by clicking on 'Backlinks' in your main overview.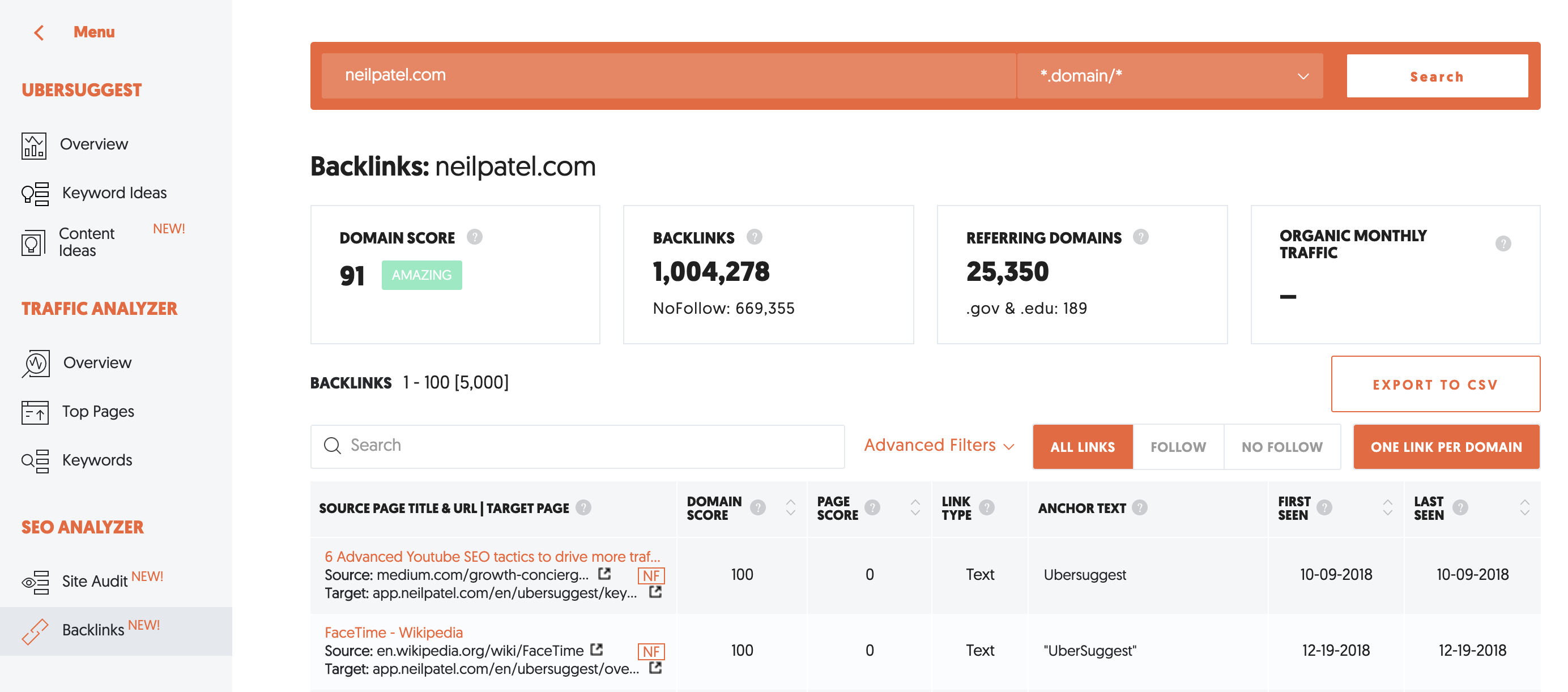 UberSuggest can give you general ideas on where your competitors get their referral links from. However, these kinds of algorithms are double-edged. You can use them to run an analysis on your own website as well.
UberSuggest's SEO Audit
You can achieve an SEO audit of your site by clicking on UberSuggest's on-site audit.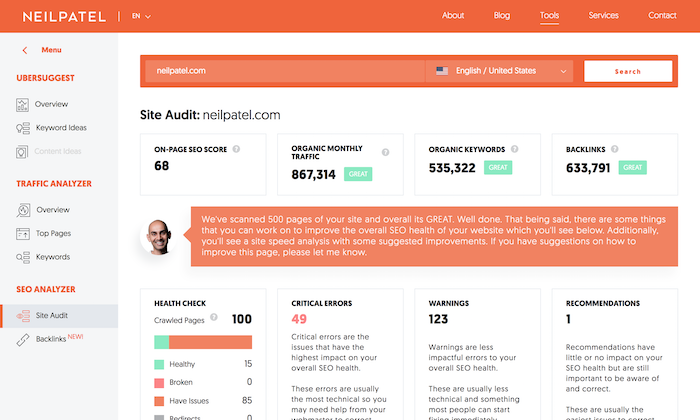 A couple of helpful insights that UberSuggest gives you include:
Keywords you rank for.
Site where you get your backlinks from.
Errors in need of fixing.
What's the Verdict for 2020 UberSuggest Review?
As a service, UberSuggest is cheap compared to other SEO tools. You can even work on it as a free tool, and the features you can get for free are very helpful if you're bootstrapping. And even when you need access to more advanced SEO functions (like filters for any keyword suggestions), you actually don't need to spend a lot.
The Pro version for UberSuggest costs $29 a month.
And you can actually get the most out of it. They constantly roll out new updates, and their live support is actually a big help, so giving this tool a try is actually pretty good.
For all these benefits and more, Consumer Reviews gives UberSuggest a solid:
We've written and posted a 2020 SEMrush review as well, and it's worth looking at if you're on the hunt to add more tools to your SEO arsenal.
Call me Sandy, a writer, and blogger of LifeStyleConvo & UrbanHouses, who worked as a full-time content creator. A writer by day and reader by night.