Social Media
A Comprehensive Hootsuite Product Review: All You Need to Know
Hootsuite is arguably one of the most popular names in social media management. department. It's also popular among influencer identification and social listening platforms. And that's why we're doing a Hootsuite product review — to see if this digital marketing tool is worth your time.
Hootsuite is surrounded by lots of new competition ever since it originally came out, but even so, it remains a significant market force, especially for businesses of medium size and ones with a tech-savvy marketing staff on their team.
Their analytics tool has metrics, reports, and visual streams for lots of profiles in every leading social media network and online presence that social media listening tools might need to track. Just like every other social media platform out there, Hootsuite has name recognition.
A Complete Hootsuite Product Review
If you've ventured at social media listening before, then you've most definitely heard of Hootsuite and what it's capable of doing and getting for you.
Here's Consumer Reviews' Hootsuite product review.
Setup and Pricing
With concerns to pricing, Hootsuite offers the following:
Professional plan

: This plan costs $29 per month, and is billed annually. But it's only for one 1 user and 10 social profiles. There's a free 30-day trial for this particular plan, but it constantly bombards you with prompts to upgrade or pay for more points. It's geared toward the small end of SMBs and solo entrepreneurs.

Team plan

: This plan costs $129 per month, and is also billed annually. It gets you 3 users and 20 social profiles, plus a customized view of analytics, team functionality, social campaign certifications, branded URLs, and more.

Business plan

: This one costs $599 per month, and allows you 50 social profiles. The plan includes more customization, ROI, and analytic data exports for larger small to midsize enterprises.

Enterprise plan

: This plan is configured for large businesses, government use, and organizations. It's priced by custom quotes.
In addition to these four plans, the company also offers a program known as Hootsuite Academy, and it gives users platform training for anyone who's interested in mastering the platform.
When you're setting up a Hootsuite account, it's as easy as logging into the Hootsuite dashboard and beginning the setup process by completing your profile. 
Hootsuite includes lots of social listening, influencer identification, engagement tools, and a comprehensive publishing site. The tool pulls in social data quickly and populates the streams on your dashboard. You can customize them by network, keywords, or specific social searches.
Profiles that Hootsuite supports include:
Facebook profiles, pages, and groups

Twitter profiles

Google+ pages

LinkedIn profiles, companies, and groups

WordPress blogs

Instagram profiles

YouTube channels
They have also recently focused on adding better video-first support for every social media platform.
Setting Up Alerts & Notifications
Setting up alerts and notifications are important. This is critical to the analytics equation because any issue that goes unnoticed and unresolved directly influences the metrics of a social media program. It may also skew results. 
We tried selecting an alert option to play a sound whenever new messages landed on one of our streams. And for specific engagement alerts, we set sound and email options.
It sent email notifications of a message "failure to send," and also included alert and notification options for team activities.
Interface and Features
The Hootsuite dashboard is cleanly laid out with main tool groups, added services, and product controls in a slide-out menu on the left side. 
In the Header splayed across the top of the screen, you can navigate to your Profile, compose messages, and either schedule them or post them for a later time. Right below that work area is where Streams and Social Networks are added and where activity is displayed.
Recently, Hootsuite's also added a recent integration with Twitter's customer feedback feature. It's a great way to improve social customer service and help Hootsuite function like a help desk for social media managers, who represent the front line of a brand's customer service experience.
When it comes to publishing, Hootsuite has more comprehensive integrations to pull in content from various sources that include Dropbox, Google Drive, Box, Microsoft OneDrive, and many others. 
Now, you can attach photos to your posts and publish or schedule them in fewer clicks. In the Team and Business tiers, the tool also gives you easier access to the collaborative post queue, workflows, and content library with approved posts.
You can add a new content source and directly access it from the 'Compose' box in the Hootsuite dashboard. Just go to the Hootsuite App Directory, search for the content source you'd like to add, and install the app. 
In the 'Compose' box, you'll find a paperclip icon for attaching media. Choose the multimedia content you'd like to attach to the post, then schedule or send. Hootsuite doesn't include a drag-and-drop post queue to adjust schedules, though.
Analytics' Functionality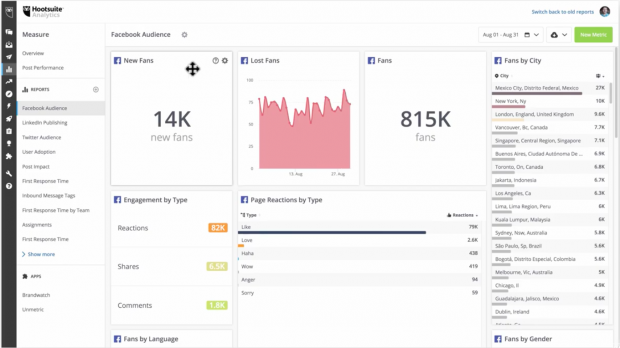 There's an Analytics control panel which is from the main left-hand slide-out menu. It comprises several templates that you can use for reporting and visualizing received data. And under Reports, there's a list of every report selected.
You can customize and build reports as well in the Report Builder by adding a header, selecting the type of reports and charts that you want. Also add a company logo or label. The tool lets you schedule the dissemination of your reports in the Report Builder as well.
Below Analytics is an Assignment menu. Here, you can create messages, assign them to team members, and track these assignments.
At the very core of Hootsuite's analytics functionality, is a tool's reporting prowess. Hootsuite offers lots of useful reports in various graphical forms. All reports are created from various analytic modules. You can use modules to build a customized report or you can pick from one Hootsuite's report templates. Each module has a point value.
Hootsuite Professional plans get you 50 points and can pay an upcharge to add more points to your account. You may also reuse points. Meaning, if you delete a report or remove a module, those points drop back into your bucket.
What's Our Rating for This Hootsuite Product Review?
Hootsuite counts its strong suit in the social listening tools aspect of their overall SaaS suite. In addition, its mainstream-based monitoring dashboard is obviously a design that a lot of other social management platforms emulate. 
Hootsuite is just as critical to your digital marketing efforts as an entire on-page SEO audit.
In the end, Hootsuite is a sophisticated set of influencer identification, listening, engagement, analytics, publishing, and curation tools supported by Hootsuite University. They also have strong internal tracking and messaging capabilities that support growth and make it work for a team in a larger organization.
Hootsuite's industry clout and popularity is incredibly well-earned, and if you're looking for a do-it-all social media management and analytics tool that integrates with every app you know, then Hootsuite will serve you well.
For this reason, Consumer Reviews give Hootsuite a: 
Check out our other SEO reviews if you want more product testaments from Consumer Reviews.
Call me Sandy, a writer, and blogger of LifeStyleConvo & UrbanHouses, who worked as a full-time content creator. A writer by day and reader by night.